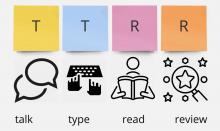 John Findlay, RIP, thank you so much for teaching me such great etiquette for computer mediated communication.
Who knew it would become so mainstream? You knew!
I shared the Zing Technologies "Talk Type Read Review" meeting method on the Open Practice Library, and was then invited to talk about T2R2 on the Open Practice Podcast last year - and just found I can share that with you here too!