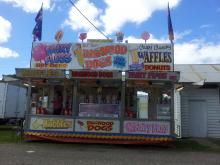 Three weeks ago I headed off to The Alexandra Show. It was an absolutely gorgeous day.
The Royal Melbourne Show just ain't what it was so I stopped going. But something in me missed the annual ritual, so I resolved to seek out and attend country shows instead.
I've got family in Alex, and grew up holidaying in Eildon, so bumping into an uncle is likely.