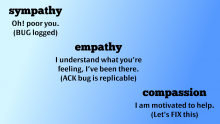 Communication can be surprisingly hard.
Human beings talk a lot. Well many humans do. Some less so, Some more so, but I reckon, in general, there's a lot of daily jibber jabber.
Some of that talking is light hearted "Small Talk". Some of it is world changing speeches. Some of it is the daily to and fro we need to get stuff done; at work, at play, at home.