Thanks to the fabulous RosieX of geekgirl fame I was invited to speak on the National women's current affairs radio show Women on the Line. The interview was last week, and the show was broadcast on 3CR this morning.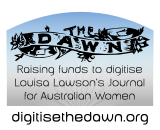 I spoke about Digitise The Dawn, Louisa Lawson, Louisa Dunkley, Ada Lovelace and mentioned Kay Thorne and Belinda Peterson who worked on CSIRAC. I also spoke about the Ada Initiative.
Sarah Stokely was also interviewed. She spoke about women and web tech and gave a shout out to the fabulous Dreamwidth project, and noted how Amanda Palmer was using the web as an independent musician.
I just finished listening to the broadcast on 3CR radio - it will air again at 6am on Wednesday morning, but you can download the MP3 (12.9MB)
So how's the campaign to #digitisethedawn going?
Well - in a word, brilliantly.
As of writing I've just added another donation that takes us up to 49% of our target of $7500. I'd ambitiously set International Women's Day as the deadline to raise the funds. To be honest, I'm actually astounded we got half way there in a little over a month since I first announced the campaign at the close of linux.conf.au earlier this year.
Descendants of Louisa Lawson have been in touch and contributed to the fund. Some of Australia's foremost feminist academics and historians have made contributions. The National Foundation for Australian Women who run the Australian Women's Archive Project have thrown their support behind the campaign and are now accepting donations on our behalf, which means they're also now fully tax deductible.
To top it off, the National Library of Australia have informed me they intend to add The Dawn to the digitisation workplan for next financial year - assuming we get the funds to do so.
So, on the eve of International Women's Day I'm not giving up. We still need $3,810.00 to hit that target. That's just
5 donations of $762
10 donations of $381
40 donations of $100 would get us across the line.
or 100 donations of $40
What we need now is people power. Please help amplify Louisa's voice - please get the word out. See http://digitisethedawn.org/how-to-help