Software Freedom Day
I rely on free software. My business, Creative Contingencies, totally depends on free software, and we earn income from supporting others using free software. I'm not a coder so finding other ways to participate in the community that creates free software and make a contribution is important to me.
So for the past five years, I've been involved in organising Software Freedom Day celebrations in Melbourne. This year, the extraordinary Dale Dickins of Mad in Melbourne T-shirt painting fame is bravely steering us through the rapids of organising one small part of a global event with local volunteers.
I have no doubt, #SFD2010 from 11am til we pack up at 4pm at the State Library of Victoria on Saturday 18 September will be the best yet.
Some of you have heard me go on and on about free and open source software, but perhaps not yet made it to our event. This is the year you'll come. Here's why.
ACT Senator Kate Lundy is flying down from Canberra to speak about Gov2.0 and why an open, transparent approach to government and policy is so important. She's been leading the way, not just in Australia, but globally, in finding ways to engage more people in the dialogue, using the web and open tools to do so. Her public sphere events were brilliant. I hope to see more of them in the future.
Rami Olwan is flying down from Brisbane to speak about Creative Commons and the legal aspects of freely sharing ideas and software.
We'll hear Andrew Cunningham from the State Library's VicNet team will speak about The Open Road multi-lingual web project.
Paul Took from RedHat Melbourne will show that Open Source Software is alive and thriving in corporate enterprise and government infrastructure here in oz and across the globe.
Pia Waugh, former President of Software Freedom International and Linux Australia will also be joining us to share her passion and vision for Software Freedom.
What a line-up!
We've also got hands on workshops (sorry - these have been booked out for weeks) on OpenOffice.org, Wordpress and Inkscape, and a series of short talks covering many different topics, from android phones to writing your own games with Python, to web development with Drupal. See the full program online at http://www.sfd.org.au/melbourne/
The fun doesn't stop there. The State Library of Victoria's Experimedia space will be jumping with live demos of open source games, open hardware hacking with arduino, home audio, and representatives from Melbourne's diverse open source community.
I've been out and about trying to spread the word. We want as many people as possible to know about the event and know it's just one of many going on around the world next week.
Check out the global map of registered teams!
I've done interviews on JoyFM's technogaze show and this morning on Breakfast with Red Symons at ABC Melbourne. On Sunday I'll be talking to Alan Brough [edit: that interview was cancelled due to an ABC policy preventing promotion of the same event twice on the same station - or something like that] - and on the world famous community radio station TripleR's Byteintoit show.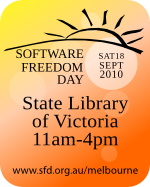 You can help!
Download our flyers or the black and white poster, or even the full colour poster if you want! Print 'em and hand 'em out or stick 'em on your noticeboard! You could even stick flyers in the letterboxes in your street.
You should definitely tell your friends.
You could blog, as I have done, and add this button to your site, and link it to our website http://www.sfd.org.au/melbourne/
Free and Open Source Software doesn't have a marketing budget.
It has us.

Note: This blogpost is licensed
You may copy it, and post it elsewhere without changes, providing you make a link back to it here http://kattekrab.net/sfd2010-melbourne